Armed Forces Veteran Friendly
We are an Armed Forces veteran friendly accredited GP Practice
This means that, as part of the health commitments of the Armed Forces Covenant, we have a dedicated clinician who has a specialist knowledge of military-related health conditions and veteran specific health services. This is important in helping ex-forces to get the best care and treatment.
If you are ex-forces, please let us know to help ensure you are getting the best possible care.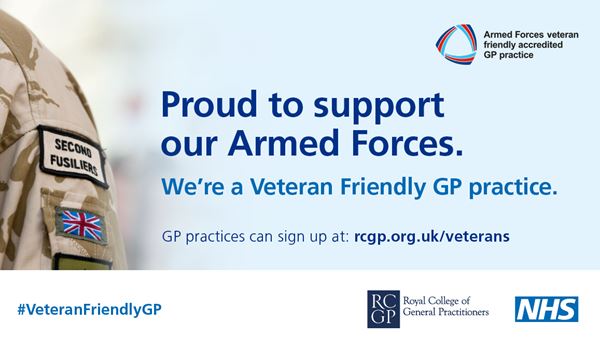 The Cranborne Practice is an accredited Veteran Friendly GP Practice.
We are proud to support our Armed Forces community.
As a Veteran Friendly GP Practice we:
Have a clinical lead for veteran health - Dr Bruce Woollard
Ask patients "Have you served?" to identify veteran patients
Support veteran patients to access dedicated health services
Undertake specialist training to meet the health commitment of the Armed Forces Covenant
If you are a veteran patient, please let us know that you have served so that we can make sure that we understand your health needs.
Nearly, 1,100 practices are now Veteran Friendly accredited. To find our more about the Veteran Friendly Practices accreditation scheme, visit rcgp.org.uk/veterans.
The Veteran Friendly Practices accredication scheme is run by the Royal College of General Practioners in parternship with NHS England and NHS Improvement.
OUR COMMITMENT AS A VETERAN FRIENDLY GP PRACTICE